The Cloud Native Computing Foundation's (CNCF) flagship Kubernetes and cloud-native conference went completely virtual this year. KubeCon + Cloud-NativeCon North America took place last week over four days (November 17-21) with many unique sessions and topics.
The keynote sessions took place from Wednesday to Friday for 2 hours each. Speaker sessions lasted 45 minutes and covered many different topics. Unfortunately, attendees could only focus on a single session at a time. However, all of the event's content will be available on the CNCF's YouTube page as of December 4. This post will give you a quick breakdown of my takeaways from the event and highlight some sessions to watch when their recordings become publicly available.
Certified Kubernetes Security Specialist (CKS) Announcement
The CNCF announced the new Certified Kubernetes Security Specialist (CKS) certification on day 1 of KubeCon. Cheryl Hung, the Vice President of Ecosystem for the CNCF, opened up with a session on the three Kubernetes based certifications. Cheryl outlined the certifications' growth and adaptability, outlining how applicable the performance-based tests are to real-world situations. We at StackRox, have been following the CKS closely. If you wish to learn more about the certification and the announcement, follow our GitHub repository and our blog releases on the certificate.
Sessions to Watch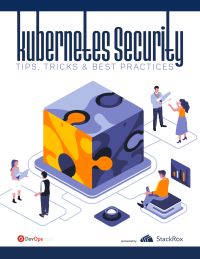 Kubernetes security ebook - tips, tricks, best practices
Download this ebook to learn how to secure your software supply chain, your Kubernetes infrastructure, and your running workloads
Download Today
Kubernetes Release Cycle
The KubeCon co-chair, Stephen Augustus, explained the change to the Kubernetes release cycle. There were three minor Kubernetes releases this year, and the plan is to keep the same tempo in 2021. Stephen outlined the decision as partly influenced by the craziness of 2020 and somewhat to give organizations and providers a chance to catch up on the Kubernetes versions they are using. With 1.15 being the most commonly used Kubernetes version, the decision allows for a larger migration timeline and extended support of earlier releases.
Sessions to Watch
GitOps
There was a healthy conversation about GitOps and how to implement Kubernetes tools successfully for it. GitOps use cases can vary widely, so finding talks that highlight meaningful use cases can be challenging. Luckily, there was a significant number of sessions to walk through different scenarios and help you make sense of the CI/CD options in the CNCF ecosystem.
Sessions to Watch
DevSecOps and Immutable Security
Security made up the majority of the talks at KubeCon this year. With over 12 sessions singling out security considerations, it was great to see broader community recognition of Kubernetes security issues. The SIG-Honk AMA panel video was one of my favorite sessions of KubeCon. The group did a fantastic job discussing future security considerations and addressing general Kubernetes security questions. Overall, the Kubernetes security community recognizes the human aspect of security implementation and has sought to set achievable goals with workable policies across teams.
Sessions to Watch
Making Sense of the Cloud Native Landscape
Overall, I thought one of the most prominent themes of the event this year was simplifying the community's focus. In previous years, there was significant interest in the newest, shiniest application or feature. The CNCF focused this year on expanding the community and propagating the core knowledge to give users the ability to make sense of the cloud-native landscape. My two favorite examples were Joe Thompson's session on when to write operators and David Sudia's discussion on CNCF tools for an internal platform setup. Overall, the event chairs made a concerted effort in focusing on education, and the CNCF roadmap, to help individuals navigate the ecosystem.
Sessions to Watch
Inclusion and Community
The CNCF continued their focus on community growth and inclusion while paying homage to the challenging year that is 2020. 2020 was made more challenging with the passing of a great human being, Dan Kohn. Previously the COO at the Linux Foundation, Dan Kohn was the Executive Director of CNCF, where he oversaw the growth of KubeCon from its small breakthrough in 2015 to the KubeCon events that we see today. If you wish to donate to his children's education fund, find more information here.
Community Initiatives
The CNCF kicked off the Inclusive Naming Initiative, which aims to focus on inclusivity in code. The event also included discussions around work-life balance and mental health, games, prizes, stretching and yoga sessions, and many more engaging activities.
Sessions to Watch
CNCF Maintainer + Ambassador Awards
The CNCF continued its yearly awards for the Top Ambassador, Top Committer, and the individuals who "Chop Wood Carry Water" and are continually moving CNCF projects forward.
Top Ambassador
Ian Coldwater –( @IanColdwater) Ian Coldwater specializes in hacking and hardening Kubernetes, containers, and cloud-native infrastructure.
Top Committer
Ben Elder (@BenThe Elder) – Ben Elder is a senior software engineer at Google, a Kubernetes maintainer, and Kubernetes SIG Testing Chair.
Chop Wood Carry Water
Erin Boyd (@erinaboyd) – Erin is a software engineer at Apple, an active contributor to the Kubernetes Storage SIG, co-chair of the CNCF Storage SIG, and a maintainer of the Operator Framework project.
Josh Berkus (@fuzzychef) – Josh Berkus contributes to Kubernetes, working on contributor experience, multicluster releases, and all of Red Hat's many Kubernetes-related projects.
Bridget Kromhout (@bridgetkromhout) – Bridget Kromhout is a principal program manager at Microsoft, focusing on the open-source Kubernetes ecosystem, and an active contributor to Helm.
Matt Fisher (@bacongobbler) – Matt Fisher is a software engineer at Microsoft and Helm's core maintainers.
Richard Hartmann (@TwitchiH) – Richard Hartmann is a community director at Grafana, a maintainer for Prometheus, and lead for PromCon, and founder of OpenMetrics.
Community Wrap-Up
A group of contributors and speakers live-streamed their thoughts and insights on last week's event. For a more in-depth breakdown, you can find their reviews and favorite sessions on YouTube.
What's Next?
With the pandemic's uncertainty, KubeCon Europe 2021 will occur as a fully remote conference on May 4-7, 2020. If you are interested in submitting to speak, the CNCF has opened the Call For Proposals (CFP) link to the public.
KubeCon North America 2021 is currently posted as a hybrid event, with in-person and online sessions, based in Los Angeles from October 12-15, 2021. While we wait for more details, you can find out more at cncf.io.
---
Categories: