Right on the heels of last week's news that we're providing Kubernetes security for DoD's Platform One software factory, we're excited to share today that we've been awarded a Phase III contract with the Department of Homeland Security. In this stage of our partnership, we're deploying our Kubernetes Security Platform to protect running systems at a large U.S. bank.
The DHS Science and Technology Directorate (S&T) uses its Silicon Valley Innovation Program (SVIP) to invest in next-generation security technologies to protect critical infrastructure, including mission-critical, cloud-native applications for financial institutions. Far more companies earn Phase I and II awards – being granted a Phase III award, where systems go live in real-world environments, is more rare, and we're really excited for the collaboration and joint learning that will come from this stage of the program.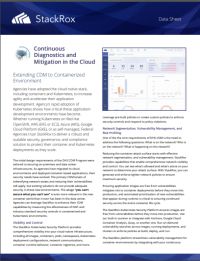 Continuous Diagnostics and Mitigation in the Cloud
Download to learn how StackRox ushers in the next generation of security capabilities and aligns closely with the DHS CDM program to provide cutting edge protection of Federal agency critical applications.
Download Now
StackRox works with financial services organizations of all sizes – from the biggest banks to the FinTech disruptors, to protect their Kubernetes apps and keep their customers' data safe. As part of this DHS program, the bank is deploying the StackRox software to identify and remediate vulnerabilities and misconfigurations, ensure compliance, and detect and stop threats at runtime.
DHS invests in such long-term development work to help not just this financial services organization but the broader industry be able to better define and deploy best practices for security. With the industry's broad adoption of Kubernetes, these banks need to learn how to operationalize Kubernetes security at scale. Our Kubernetes-native architecture is uniquely suited to that challenge – only StackRox taps the rich context and native controls of Kubernetes to ensure better security, reduce operational risk, and deliver operational cost savings.
To see how Kubernetes-native security can help protect your environment, check out our bi-weekly overview or sign up for a personalized demo.
---
Categories: