What's better than being named a Computer Reseller News Emerging Vendor? Winning that designation two years running!

We're thrilled to be included amongst these elite technical innovators. The advantages of our unique Kubernetes-native approach to securing today's modern apps are earning us kudos across customers (see online reviews on Gartner Peer Insights and G2), cloud partners, resellers, and industry watchers.
As companies of all stripes work to accelerate their digital transformation, resellers have a special opportunity to serve as trusted advisors on the path toward app modernization. Today's current global pandemic only magnifies this opportunity. A big part of success in this journey lies in a company's ability to adopt DevSecOps processes and tooling so they can innovate faster than ever but do so safely.
StackRox sits at the heart of that move to DevSecOps, enabling development, operations, and security teams to work together more effectively in applying security controls across the entire application development and deployment process. StackRox uses its deep integrations with Kubernetes to pull out its rich context to inform teams and assess risk. We also push policies into Kubernetes and leverage its native controls to enforce those policies.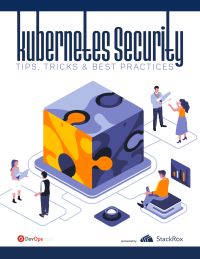 Kubernetes security ebook - tips, tricks, best practices
Download this ebook to get started with securing your software supply chain, your workloads, and your Kubernetes infrastructure
Download Now
Resellers serve as essential guides, taking the collective learnings across all their clients to avoid common pitfalls, quickly apply best practices, and accelerate the time to success. We're excited to earn the recognition of these vital partners as we work together to drive innovation in cloud-native apps.
Check out our current set of partners, and request a demo to see how we can aid your digital transformation, cloud migration, and cloud-native app dev clients today.
---
Categories: