It's always a great feeling to learn another customer win story, but it's especially exciting when you're a customer in return! That's the fun I had talking with Greenlight to learn how the company relies on StackRox to protect its Kubernetes applications.
Greenlight has a cool mission: teach kids about financial literacy, encouraging them to create a budget and helping them reach savings goals. I grew up with a mother who gave me envelopes with my first allowance, and I had to distribute my four pennies across each one (labeled spend, save, gifts, and charity, in case you were wondering). With my own kids, I was also using envelopes plus tracking dollars in a digital log, and none of it was working well. Then I heard about Greenlight from a friend.
Greenlight's co-founder and CEO Tim Sheehan realized that with cash being so rarely used these days, kids are growing up with no tangible relationship to money. The Greenlight debit card for kids is a way to resurrect budgets and saving. The companion app automatically allocates allowance however you designate and helps kids create savings goals – then it puts those numbers right in front of the kids, and they can use the debit card to participate in today's digital economy. My kids thought they were the coolest when they used their cards the first the time a few weeks ago, buying candy at a local market (envelopes may be passé, but some things never change).
So it meant a lot to me personally to get to talk with Ken De La Guera, head of infrastructure at Greenlight. I wasn't surprised to hear the company is seeing phenomenal growth and has been working hard to scale its systems. The company has moved about 80% of its applications onto Kubernetes already and has been migrating from Amazon EC2 to Amazon EKS.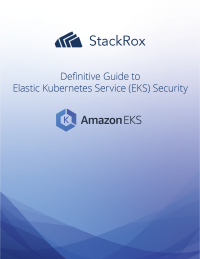 Definitive Guide to AWS EKS Security
Download to learn how to securely design your EKS clusters, build secure images and prevent vulnerabilities, enforce networking best practices, and monitor your environment for security and performance
Download eBook
Ken was very clear that while Amazon does a great job securing its infrastructure, Ken and his teammates still have a big job to do in protecting the company's application workloads. And the key to success is to run security like the team runs infrastructure – in a DevOps fashion.
In the old way, we had separate teams, with different priorities, and each would hand off to the next, and there was always a lot of friction. It doesn't work with DevOps – you need DevSecOps. Security needs to be more automatic, and StackRox is doing exactly that. It just plugs into what we have today, and it doesn't create hurdles or friction – it just fits right into what we have today.
Like so many of our other customers, Ken and his team have first enabled vulnerability management with StackRox. The team is also really appreciative of the risk profiling, which uses Kubernetes context to prioritize deployments from most to least risky, so Ken and company can triage the biggest risks first and have an outsized impact on improving Greenlight's security posture. Configuration management is the other big win – the team relies on StackRox to ensure Kubernetes and containers themselves are all configured with least privilege and other security mechanisms in place. You can hear Ken and team discuss their Kubernetes, AWS, and security journey on a DevOps.com webinar this week!
I look forward to hearing about Greenlight's progress with StackRox, as the company starts to use our compliance, network segmentation, and runtime security features. And whether he wants to or not, Ken's going to keep hearing about my kids' progress on their savings goals (a new-ish phone and a bike top their lists right now). Accountability is good for everyone!
If you want to see how StackRox can help you meet your security goals, request a personalized demo or ask to start a 30-day free trial.
---
Categories: