Today we shared the news that StackRox supports the Anthos platform (download joint solution brief), extending the reach of our hybrid and multicloud security approach. Anthos and the StackRox Kubernetes Security Platform share a lot of common principles in delivering consistency across different environments – enabling both the infrastructure itself as well as the security policies and controls to bridge these worlds makes for a powerful combination.
Hybrid and multicloud adoption are on the rise, as demonstrated in StackRox research and other reports. Containers and Kubernetes are often at the heart of these deployments, given the portability they enable. StackRox delivers a broad set of security capabilities for Anthos environments, giving customers:
single point of control to enforce security, compliance, and governance policies
security that goes wherever their workloads are deployed, without any additional work or operational risk
a uniform and environment-agnostic security management tool that eliminates security gaps between environments
StackRox taps the power of Kubernetes to enrich security context and enforce security policies, and Google customers can now apply those policies on their Anthos deployments.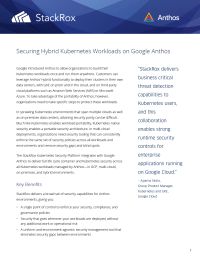 StackRox and Anthos Solution Brief
Download our solution brief to learn more about how StackRox secures hybrid workloads on Anthos
Download Now
Aparna Sinha, director of product management at Google Cloud, noted:
"Anthos makes it easier for customers to leverage hybrid and multicloud strategies at the heart of flexible application deployment today. Just as Anthos simplifies portability, StackRox enables a common approach to container and Kubernetes security that applies across customers' different environments."
Containers and Kubernetes have proven their value in accelerating application development and release, driving business innovation, but they've also complicated the security equation. They create new attack surfaces, and while they incorporate a lot of inherent security features, those features are not enabled by default. The learning curve presents another challenge – most practitioners are still coming up to speed on best practices for configuring containers and Kubernetes in the most secure way.
StackRox provides a rich set of out-of-the-box policies across DevOps and security best practices, container and Kubernetes configurations, access control, and compliance checks that provide guardrails for DevOps teams and enforcement options for security. Now Anthos customers have an easy way to take advantage of these protections wherever they're running their Kubernetes deployments. We'd love to show you the StackRox magic in action – sign up for a personal demo, or join our next platform overview session.
---
Tags: