When you're focused on revolutionizing the Accounts Receivable (AR) market, feature innovation and delivery are your lifeblood, and containers and Kubernetes become your currency. Protecting customer data on that cloud-native infrastructure is essential to successfully disrupting this FinTech market. YayPay is proud of its digital disruptor status, and StackRox is proud to have enabled the security and data protection YayPay needs to fuel customer growth.
It's always fun to work with "born in the cloud" companies like YayPay. It's even more fun when you beat the competition along the way. YayPay was actively engaged with a first-generation container security company when web research led them to us here at StackRox. The YayPay team saw the difference right away – instead of providing an inline proxy outside of the tech stack, like the first company YayPay tested, StackRox embeds all its control policies directly in Kubernetes. The team appreciated the consistency, scalability, and cloud portability of our Kubernetes-native approach.
From the outside, all the tools look like they solve the same problem. But once you dig into HOW they solve it, the differences become really clear. The deciding factor for us was that StackRox works with Kubernetes - so security is built in, not bolted on.

-- Tom Bartolucci, vice president of engineering, YayPay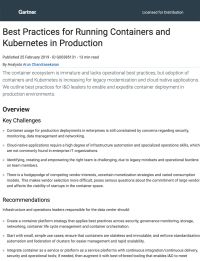 Best Practices for Running Containers and Kubernetes in Production
Learn about Gartner's recommendations for securing your containers and Kubernetes before and during runtime.
Download Today
Minutes into trialing the StackRox Kubernetes Security Platform, the YayPay team found a range of misconfigurations that were leaving them vulnerable. They really valued that StackRox could automatically generate updated network policies that reduced their blast radius - and have those policies live in Kubernetes. They saw that StackRox identifies and fixes existing problems in their container and Kubernetes environments, and they've tied StackRox into their CI/CD systems, so StackRox will prevent problematic images or deployments from launching in the future. YayPay is also excited to leverage StackRox policies and dashboards for SOC 2 audits as well.
You can learn more about how YayPay is using StackRox for security and compliance in this case study. To see how StackRox can protect your environment, sign up for a personal demo.
---
Categories: