Operationalizing container security by integrating with existing DevOps tooling and workflows has long been a design principle in how we've built our StackRox Kubernetes Security Platform. Today we're excited to announce yet another powerful integration to make our customers' operational lives better – the StackRox App for Sumo Logic.
With this integration, joint customers now get rich StackRox insights about Kubernetes and container security incidents directly in the Sumo Logic Continuous Intelligence Platform. The StackRox App, available in the Sumo Logic App Catalog, highlights vulnerabilities, misconfigurations, runtime threats, and other policy violations in the Sumo Logic UI.
Our joint customers are pretty excited about this news!
"StackRox gives us a Kubernetes-centric single pane of glass view into the security posture of our multi-cloud infrastructure. Our organization is able to work together more effectively using Kubernetes' native controls driven by StackRox policies. Having StackRox's unique Kubernetes security insights available directly on our Sumo Logic Dashboard provides us with a single place to view security and compliance details alongside our operational analytics for our cloud-native infrastructure. This integration also allows us to use a single, consistent security event detection and response pipeline."
So said Looker's manager of security operations, Richard Reinders, who was one of many joint customers who sparked the collaboration. We're excited to join Richard and other joint customers on stage at Sumo Logic's Illuminate customer summit this week.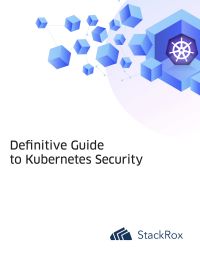 Definitive Guide to Kubernetes Security
Learn about important Kubernetes security considerations, operationalizing built-in Kubernetes security features, and security best practices for building, deploying, and running containerized apps
Download Now
Just as our Kubernetes-native container security platform leverages Kubernetes itself to provide integrated controls, similarly, our Sumo Logic integration embeds critical Kubernetes and container security insights into the monitoring infrastructure our customers already use. Now, in the same incident manager customers rely on for other monitoring alerts, joint customers will also see critical Kubernetes and container incidents highlighted in the following dashboards:
StackRox Overview – offers a snapshot of key metrics about an organization's overall Kubernetes and container security posture
StackRox Image Violations – displays information from StackRox's image scanning and vulnerability management capabilities and prioritizes security issues in container images based on rich context derived from Kubernetes
StackRox Kubernetes Violations – highlights prioritized list of misconfigurations of Kubernetes components based on more than 70 DevOps and Security best practices
StackRox Runtime Violations – provides insights into threats and other suspicious activity at runtime based on continuous monitoring of every single container within Kubernetes environments
This Sumo Logic integration joins other integrations StackRox provides into systems including registries, vulnerability managers, and other incident management platforms. You can learn more about the StackRox App for Sumo Logic on our partner page, and you can see other integrations as part of our StackRox Kubernetes Security Platform overview.
---
Categories: