Today news broke that Palo Alto Networks (NYSE: PANW) is buying container security startup Twistlock for approximately $410 million. The acquisition provides great validation of the container security market and broader cloud-native security market. Twistlock is Palo Alto's third security acquisition since Nikesh Arora took over as CEO and reflects the growing importance of the broader cloud security market. Enterprises today are looking for ways to enforce security and compliance policies as they embrace the business benefits of cloud-native application architectures across multi-cloud and hybrid cloud environments.
The container security market is officially in hypergrowth mode
Analyst firm Gartner defines the category StackRox and Twistlock serve as the container security market. It is one of the fastest growing security software categories today. The reason is simple: we're in the early innings of a massive move to adopt cloud-native application architectures. Most organizations are implementing microservices, containers and Kubernetes for their digital transformation projects. Why? Simply put, they need the speed, flexibility and agility to be competitive in today's environment. DevOps and DevSecOps are unstoppable forces. This massive shift is driving the demand for container security and fueling the growth of this market.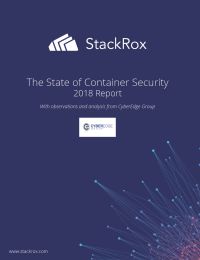 The State of Container Security Report
Download this report from the CyberEdge Group and StackRox to understand how container and Kubernetes adoption trends intersect with security concerns
DOWNLOAD NOW
According to Gartner, by 2022, more than 75% of global organizations will be running containerized applications in production, which is a significant increase from today's adoption rates. The unprecedented growth in containerized applications running on-premises and in the cloud is driving growth rates in the container security market. Industry analysts forecast the container security market to reach $2.25 billion by 2023.
Why Palo Alto paid a high multiple relative to Twistlock's revenue
Based on industry watchers' understanding of Twistlock's numbers, it's clear the company's investors and shareholders received a high multiple relative to Twistlock's trailing 12 months of revenue. One element that drives high multiples is projected future growth. The container security market has that in spades. Another element that increases multiples is strategic importance. Surveys of IT and security professionals by Forrester, the Cloud Native Computing Foundation, and CyberEdge highlight that security concerns remain a leading challenge in adopting containers. Recognizing the importance of cloud security to its future growth, Palo Alto is no doubt seeking to turbocharge its aspirations to dominate this market.
If recent acquisitions are any guide, Palo Alto will use the technology acquired from Twistlock to bolster its revenue and further increase its share of wallet within its customer base. It will also be interesting to see if Palo Alto integrates the Twistlock team into its Cloud BU or keeps it separate, since the Twistlock software is largely an on-premises offering.
The StackRox approach
We at StackRox have pioneered a second-generation container security solution that is both container-native and Kubernetes-native. From deployments to configurations to enforcement, we are purpose-built for the Kubernetes ecosystem - including self-managed clusters; managed services such as Amazon EKS, Azure AKS, and Google GKE; and distributions such as Red Hat OpenShift and Docker Enterprise Edition.
StackRox's deep integrations with Kubernetes enable meaningful differentiation in the following areas: deployment-centric visibility, multi-factor risk profiling, Kubernetes-native enforcement, continuous hardening, and seamless deployment. Companies adopting container security platforms should consider how the technologies they're evaluating protect the full Kubernetes and container ecosystem and enable the automation and scale inherent in Kubernetes deployments. StackRox enables security that's built in, not bolted on, as the cloud-native world demands.
Finally, I wouldn't be surprised to see other security vendors acquire a container security vendor in the next 12 months. Palo Alto's acquisition provides a strong validation of the container security market, its drivers, and its growth. This investment is good news for DevOps and security teams everywhere, since it will drive further innovation and expand options for teams evaluating which solution best fits their needs. At StackRox, we are excited to continue serving our global customers with our second-generation Kubernetes Security Platform focused on securing both containers and Kubernetes.
---
Categories: