When we officially launched the StackRox Kubernetes Security Platform about 18 months ago, we highlighted that microservices, containers, and Kubernetes were the next stage in the evolution of application development in the cloud-native stack. While DevOps embraced microservices and its advantages in delivering unprecedented speed, efficiency, and portability, security teams were frequently left in the dark or brought in a little too late. Today, security teams are proactively working with DevOps to ensure that their organization's security and compliance requirements are adequately addressed before new apps go live.
StackRox is working closely with DevOps and Security teams to solve our customers' most pressing container and Kubernetes security concerns and partner with them on their journey to cloud-native application development.
Security – the Top Concern in Adopting Containers
In a recent survey of IT decision makers, security topped the list of concerns (50%) customers had around their container strategy. More than half of the respondents (54%) identified exposures due to misconfigurations as their primary security concern, followed by vulnerabilities (29%), and attacks (17%). And while misconfigurations is what keeps most organizations up at night, it's the runtime phase they're most worried about (44%).
At first glance, these two stats seem to contradict each other, given the fact that configuration is often associated with the build/deploy phase. However, we see the survey results as a validation of a holistic approach to container security – a single platform that covers entire lifecycle from build to deploy to runtime.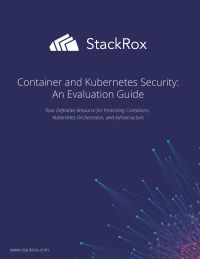 Container and Kubernetes Security: An Evaluation Guide
Download our 20-page detailed guide that identifies the most critical security controls required for your containers and Kubernetes environments.
DOWNLOAD NOW
Our Unique Approach – We're All-in on Kubernetes
Kubernetes has emerged as the de facto standard orchestrator for containers and microservices. In a CIO.com survey of C-level execs and IT decision makers, 50% of respondents said they use Kubernetes in production environments, with 92% of respondents expecting to see significant Kubernetes adoption in the near future. This dominance was not as easy to predict a year ago, when we made the bet to go all-in on Kubernetes. But we felt strongly that doing so would enable us to provide our customers with a deployment-centric view of their environment, the ability to quickly prioritize risks based on rich context, the opportunity to leverage Kubernetes for robust and scalable policy enforcement, and the fundamental value of significantly improved security for container and Kubernetes environments.
In addition, our innovation around leveraging Kubernetes as the source of contextual data and a control point for policy enforcement allows DevOps and Security to speak a common language and continuously "shift left" to catch and fix issues upstream.
Looking ahead
Last year saw several high-profile attacks and exposures on Kubernetes, including the Tesla crypto mining attack, and the year came to a close just as the first major Kubernetes vulnerability was uncovered. We expect 2019 will see container and Kubernetes adoption reach new highs, along with unforeseen security challenges and vulnerabilities. We believe that our unique approach – a Kubernetes-centric approach – will protect our customers' containerized applications against existing and new threats, enabling them to confidently build out their cloud-native stack.
---
Categories: