I've worked to align government and commercial cybersecurity initiatives throughout my career, from the White House to Silicon Valley. It's crystal clear to me that we're stronger when we work together.
I've been speaking frequently on this topic recently, as co-chair of the CSIS Cyber Policy Task Force for the 45th President, ally of the Hewlett Foundation, advisor to the UC Berkeley Center for Long-Term Cybersecurity, and affiliate of the Stanford University Center for Security and International Cooperation. It's always been a personal priority to bring together cybersecurity leaders with different worldviews, to find common ground, and to advance our field together.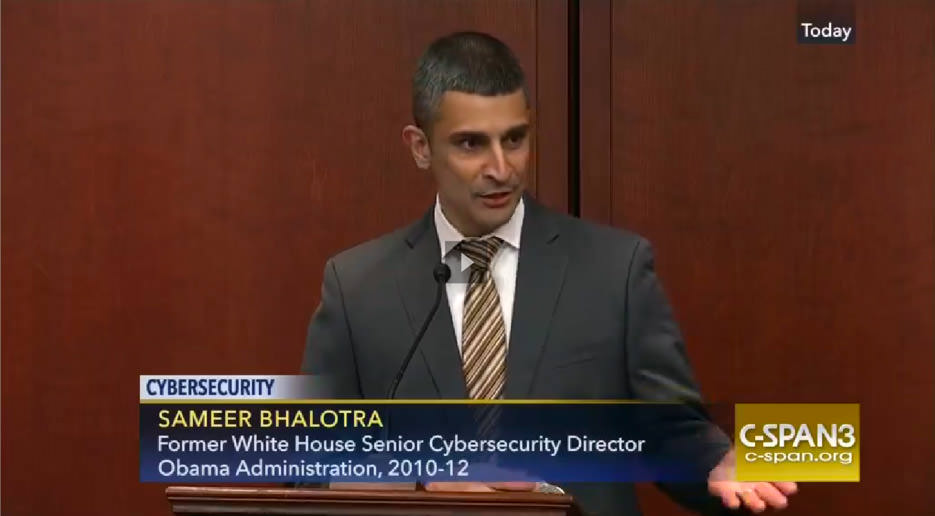 Presentation to the incoming US Congress, January 5, 2017 in Washington, DC
That's why I'm particularly excited about the announcement of the award from the Department of Homeland Security (DHS) Science and Technology (S&T) Directorate's (DHS S&T) Silicon Valley Innovation Program (SVIP) to StackRox, to provide adaptive threat protection for containers. The StackRox team is pleased to build on our foundation of Global 2000 customers in the finance, media, and tech sectors, and serve the government as well.
Under this award, StackRox will join the DHS S&T Next Generation Cyber Infrastructure APEX program, which addresses the cybersecurity challenges facing our nation's critical infrastructure. This program identifies, develops, conducts test and evaluation, and transitions innovative cybersecurity technologies to harden major US systems and networks, with an initial focus on government and financial sector needs. Our common goal is to ensure US national security and economic security in the face of increasingly sophisticated cyberattacks.
It's been refreshing to see the government become a vocal, early adopter of container technology, to maximize capacity utilization, improve flexibility, and minimize costs. There have already been significant investments in Docker and container systems at the US General Services Administration (GSA), Citizenship and Immigration Services (USCIS), and Department of Defense (DoD). These organizations hold massive troves of information about US citizens, visitors, and companies, including social security numbers, bank accounts, military records, and much more.
Now the government is looking to provide a mechanism to build security into these container environments, and we're thrilled to answer the call. The DHS S&T SVIP will introduce the StackRox platform to identify cyberattacks and automatically stop malicious activity on containerized applications.
---
I learned from one of my longtime mentors, Richard A. Clarke, about the importance of building security in – especially when new technologies take off faster than the government usually moves:
"Technologies are frequently adopted because they save money and make it easier to accomplish missions. Unfortunately new technologies are usually deployed without security, an afterthought added on later in a way that does not work well. That's why I was so excited to be an early investor in StackRox. They're getting out ahead of the security requirements for containers. Now we can deploy containers and know the system is secure, thanks to StackRox."
– Richard A. Clarke, Former Special Adviser to the President for Cyber Security, Author of Cyber War, and CEO of Good Harbor Security Risk Management
---
Thanks to Dick and all our StackRox allies for guiding us on our journey to protect container systems, for the benefit of both industry and government. And thanks to the DHS S&T SVIP team for partnering with StackRox. We look forward to serving.
We invite you to read more about how StackRox is partnering with DHS:
---
Categories: